The Data Day Texas 2024 Partners
Data Day Texas is possible because of the generous support from the following organizations.
For partnership details, send a note to partners@globaldatageeks.org.
Generative AI Partner

Elastic is a search company. As the creators of the Elastic Stack (Elasticsearch, Kibana, Beats, and Logstash), Elastic builds self-managed and SaaS offerings that make data usable in real time and at scale for search, logging, security, and analytics use cases. Thousands of organizations worldwide, including Cisco, eBay, Goldman Sachs, Microsoft, The Mayo Clinic, NASA, The New York Times, Wikipedia, and Verizon, use Elastic to power mission-critical systems. Founded in 2012, Elastic is a distributed company with Elasticians working in countries around the world. Learn more at elastic.co.
Streaming Data Partner

Redpanda is the streaming data platform for developers. API-compatible with Apache Kafka, Redpanda introduces a breakthrough architecture and disruptive capabilities that make it an easy, fast, scalable, and cost-effective engine of record for both real-time and historical enterprise data. Innovators like Lacework, Jump Trading, Vodafone, Moody's, Hotels Network and Alpaca rely on Redpanda to process hundreds of terabytes of data a day. To learn more, visit redpanda.com
Database Partner

Motherduck makes analytics fun, frictionless, and ducking awesome. In partnership with the team building open source database DuckDB, MotherDuck was founded by former leaders at some of the most innovative companies in data. It is on a mission to combine the elegance and speed of DuckDB with the collaboration and scalability of the cloud to provide a serverless, easy to use analytics platform for data small and large.
Data Modeling Partner

Ellie.ai is a product design and collaboration platform for data teams. Its unique approach uses conceptual data modeling techniques to help enterprises grasp their business needs and validate product ideas before committing to building complicated and costly data pipelines. Leading companies from Healthcare, and Telco, to Energy and IT, use Ellie to gather and understand their requirements fast and ensure that the data initiatives bring tangible business value. The company is headquartered in Helsinki, Finland, and serves customers all over the world from Canada to New Zealand.
Gold Graph Partner

Graphable is a US company that brings you expert Neo4j consulting services for data science/analytics and graph-based AppDev. We are also the principal reseller in the Americas of the Hume Knowledge Graph platform from GraphAware also offering expert Hume consulting services. Graphable delivers insightful Graph database/ML/NLP, as well as BI/analytics as a Domo reseller with expert Domo consulting services. We are known for our thought leadership and focus on project ROI, and for operating ethically, communicating well, and delivering on time. With hundreds of successful projects across most industries, we have additional focus in FinServ, BioTech/Healthcare, HighTech, Media, Gov/PubSec & Higher Ed. Thriving in the most challenging data integration and data science contexts, Graphable drives your graph/analytics success.
Open Source Partner

Instaclustr helps organizations deliver applications at scale through its managed platform for open source technologies such as Apache Cassandra®, Apache Kafka®, Apache Spark™, Redis™, OpenSearch®, PostgreSQL®, and Cadence®. We combine a complete data infrastructure environment with hands-on technology expertise to ensure ongoing performance and optimization. By removing the infrastructure complexity, we enable companies to focus internal development and operational resources on building cutting edge customer-facing applications at a lower cost.
Knowledge Graph Partner

Franz Inc. is an early innovator in Artificial Intelligence (AI) and leading supplier of Semantic Graph Database technology with expert knowledge in developing and deploying complex Cognitive Computing solutions. AllegroGraph, Franz's flagship, high-performance, transactional, and scalable Semantic Graph Database, provides the solid storage layer for Enterprise grade NoSQL solutions. Franz's Cognitive Computing capabilities provides a powerful means to aggregate and analyze data about individual and organizational behaviors, preferences, relationships, plus spatial and temporal linkages between individuals and groups.
Graph Database Partner

Memgraph is an open-source, in-memory graph database for on-prem or cloud use. Memgraph offers the flexibility you need, whether it's on your own infrastructure or our fully managed Memgraph Cloud. Our built-in connectors seamlessly integrate with streaming sources like Apache Kafka, Pulsar, and Redpanda, as well as historical data from MySQL, CSV, and JSON. Transitioning to Memgraph from Neo4j is a smooth and straightforward process. Explore our comprehensive documentation and see how easy it is to make the switch to Memgraph, leveraging the full power and speed of our in-memory graph database. Memgraph Cloud is deployed on AWS, and it is available in 6 regions globally with ultra-low latency and dedicated server support. Start your graph project with small instances of 1 GB RAM, then scale confidently to 2GB, 4GB, 8 GB, 16 GB, or 32 GB RAM. For more details, visit memgraph.com.
Low Code Partner

At KNIME®, we build software for fast, easy and intuitive access to advanced data science, helping organizations drive innovation. Our KNIME Analytics Platform is the leading open solution for data-driven innovation, designed for discovering the potential hidden in data, mining for fresh insights, or predicting new futures. Organizations can take their collaboration, productivity and performance to the next level with a robust range of commercial extensions to our open source platform. For over a decade, a thriving community of data scientists in over 60 countries has been working with our platform on every kind of data: from numbers to images, molecules to humans, signals to complex networks, and simple statistics to big data analytics. KNIME's headquarters are based in Zurich, with additional offices in Konstanz, Berlin, and Austin. We're open for innovation®, so visit us at KNIME.com.
Visualization Partner

Tom Sawyer Software is the leading provider of software and services that enable organizations to build scalable and dynamic graph and data visualization and analysis applications. Customers such as AIRBUS, Cisco Systems, Equifax, IBM, JPL, Lockheed Martin, NASA, Siemens, and Toyota use our software to automatically discover and graph hidden patterns and complex relationships. We serve clients with needs in geospatial intelligence, link analysis, network topology, maps, architectures and models. We also federate data from large, diverse sources such as Neo4j, Oracle, and others. Visit our booth to see live demonstrations or http://www.tomsawyer.com/solutions/graphical
Friends and Family

Kineviz was founded in 2015 as a community, built on a foundation of technology and creativity. We are a team of scientists, computer engineers and artists working to connect humans with data and provide the visualization of complex data to gain insights for better outcomes. Our GraphXR platform is a fluid yet powerful visualization and analytics tool. It enables data modeling, exploration, analysis, and the visualization of high dimensional and connected data, as well as powering custom applications requiring a graph data model. GraphXR is especially valuable for visualizing data from multiple sources and in a variety of formats, and supports a broad and steadily expanding range of databases, file types, and APIs, GraphXR has been successfully deployed in a variety of industries - from large-scale enterprises to SMBs - including banking & financial, healthcare & life sciences, public safety, high-tech, and more. Visit us at kineviz.com.
Partnership opportunities at Data Day Texas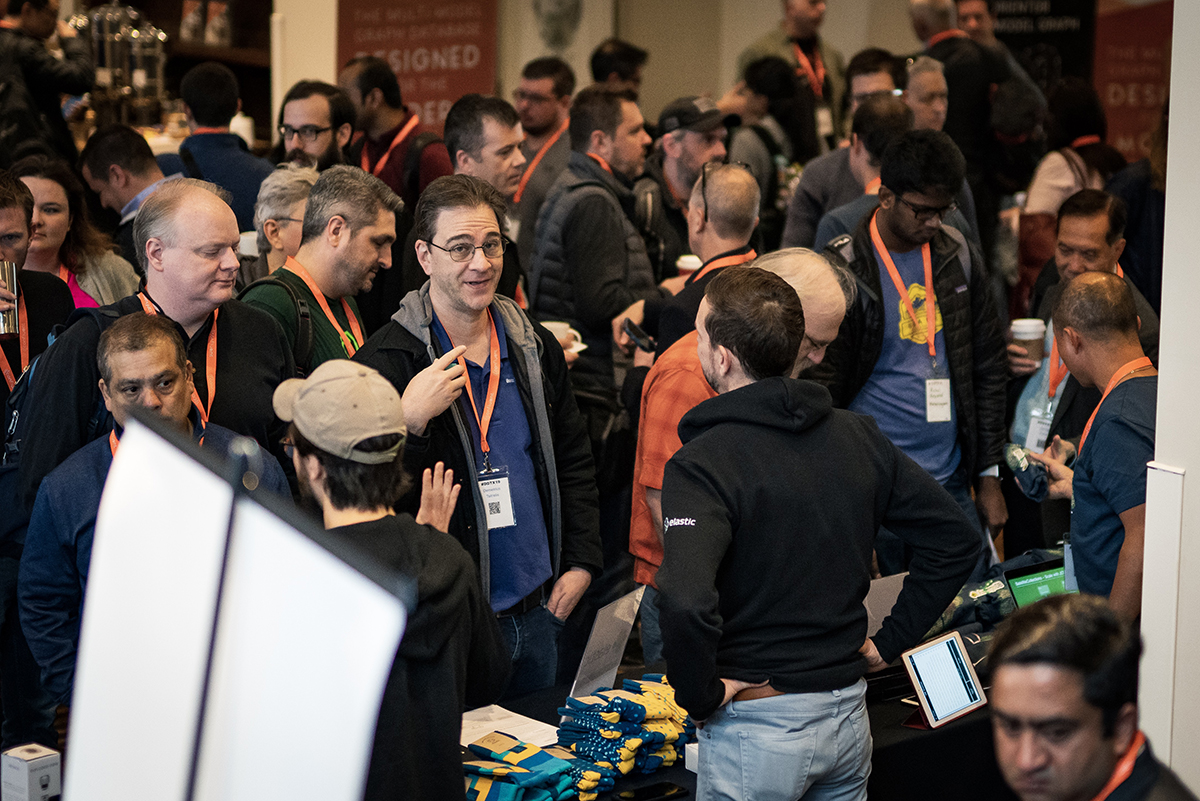 2nd floor lobby, Data Day Texas 2019. A slack channel at a virtual conference is not the same as having hundreds of people pass by your booth. Data Day Texas sponsorships normally sell out three months in advance, and the best slots are taken well before that. For partnership details, send a note to partners@globaldatageeks.org.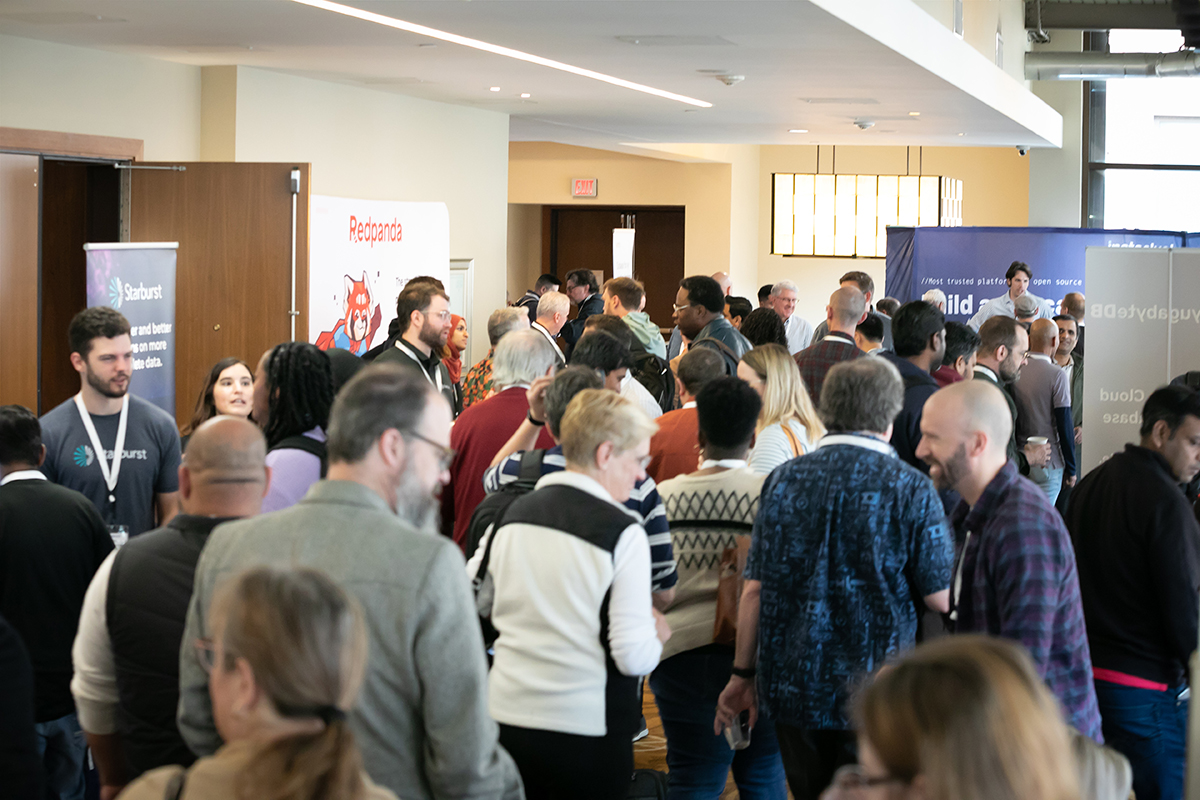 3nd floor lobby, Data Day Texas 2023. There is no "exhibit room". Sponsors are situated in high traffic areas. For partnership details, send a note to partners@globaldatageeks.org.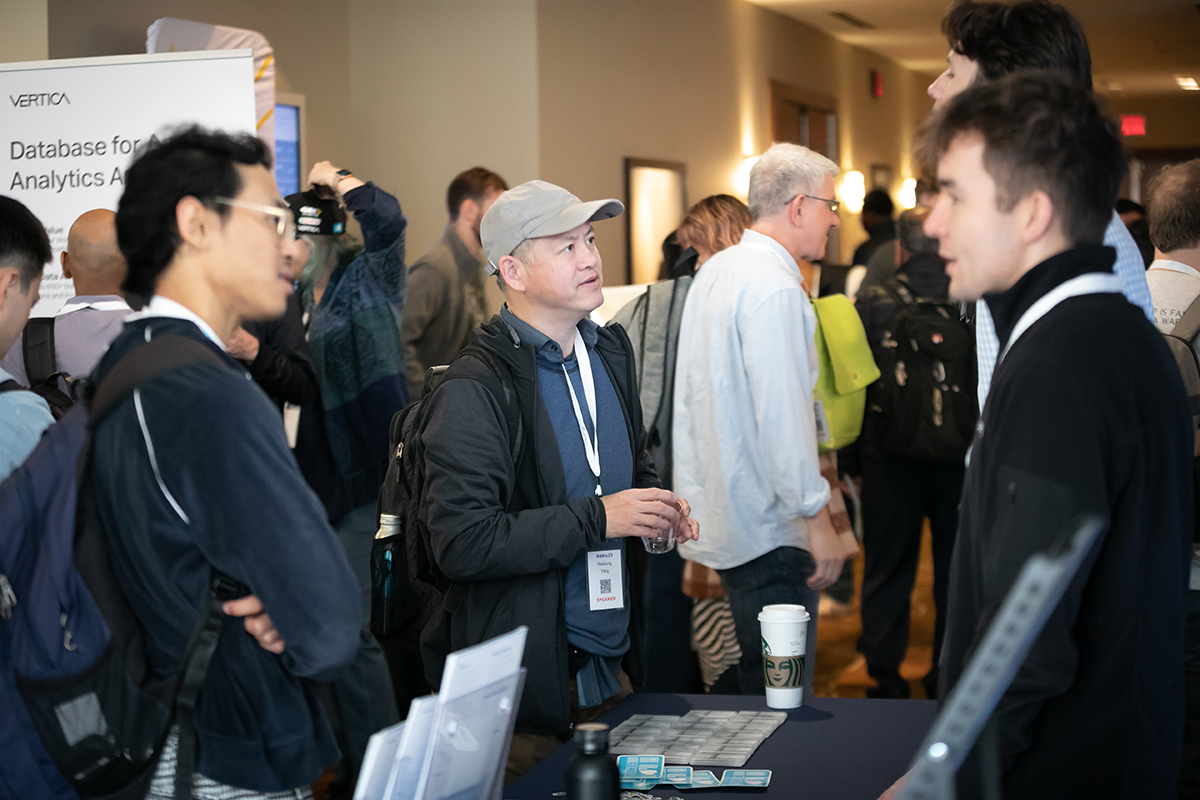 3nd floor pre-function, Data Day Texas 2023. For partnership details, send a note to partners@globaldatageeks.org.