The Data Day Texas 2023 Sponsors
Data Day Texas is possible because of the generous support from the following organizations:
Gold Sponsors

At KNIME®, we build software for fast, easy and intuitive access to advanced data science, helping organizations drive innovation. Our KNIME Analytics Platform is the leading open solution for data-driven innovation, designed for discovering the potential hidden in data, mining for fresh insights, or predicting new futures. Organizations can take their collaboration, productivity and performance to the next level with a robust range of commercial extensions to our open source platform. For over a decade, a thriving community of data scientists in over 60 countries has been working with our platform on every kind of data: from numbers to images, molecules to humans, signals to complex networks, and simple statistics to big data analytics. KNIME's headquarters are based in Zurich, with additional offices in Konstanz, Berlin, and Austin. We're open for innovation®, so visit us at KNIME.com.

Graphable is a US company that brings you expert Neo4j consulting services for data science/analytics and graph-based AppDev. We are also the principal reseller in the Americas of the Hume Knowledge Graph platform from GraphAware also offering expert Hume consulting services. Graphable delivers insightful Graph database/ML/NLP, as well as BI/analytics as a Domo reseller with expert Domo consulting services. We are known for our thought leadership and focus on project ROI, and for operating ethically, communicating well, and delivering on time. With hundreds of successful projects across most industries, we have additional focus in FinServ, BioTech/Healthcare, HighTech, Media, Gov/PubSec & Higher Ed. Thriving in the most challenging data integration and data science contexts, Graphable drives your graph/analytics success.

At StreamSets, a Software AG company, our mission is to ensure data engineering teams thrive in today's world of constant change. We do this by embedding the DataOps philosophy of "continuous data for the connected enterprise" into the StreamSets DataOps Platform. StreamSets empowers data engineers to build, run, monitor, and manage smart data pipelines for the modern data ecosystem. StreamSets is the only data integration platform that provides a single design experience for all design patterns for 10x greater developer productivity; smart data pipelines that are resilient to change for 80% less breakages; and a single pane of glass for observing and monitoring all pipelines to eliminate blind spots and control gaps. With StreamSets, you can deliver continuous data for the modern data ecosystem and hybrid integration in a world of constant change.

Vaticle is a team of people driven to empower engineers to solve complex problems. We are the creators of the strongly-typed database, TypeDB, and its query language, TypeQL. Our technology helps organisations in various industries, including Life Sciences, Defence & Security, Financial Services and Robotics, to build intelligent systems that tackle complex problems. From financial analytics to drug discovery, cyber threat detection to robotics disaster recovery, our technology empowers engineers around the world to tackle a higher order of complexity in data and knowledge.
Cassandra Track Sponsor

DataStax delivers Apache Cassandra™ in a database platform purpose built for the performance and availability demands of web, mobile and IOT applications, giving enterprises a secure always-on database that remains operationally simple when scaled in a single datacenter or across multiple datacenters and clouds.
With more than 500 customers in over 50 countries, DataStax is the database technology of choice for the world's most innovative companies, such as Netflix, Adobe, Intuit and eBay. Based in Santa Clara, Calif., DataStax is backed by industry-leading investors including Comcast Ventures, Crosslink Capital, Lightspeed Venture Partners, Kleiner Perkins Caufield & Byers, Meritech Capital, Premji Invest and Scale Venture Partners. For more information, visit DataStax.com or follow us @DataStax
Silver Sponsors

Franz Inc. is an early innovator in Artificial Intelligence (AI) and leading supplier of Semantic Graph Database technology with expert knowledge in developing and deploying complex Cognitive Computing solutions. AllegroGraph, Franz's flagship, high-performance, transactional, and scalable Semantic Graph Database, provides the solid storage layer for Enterprise grade NoSQL solutions. Franz's Cognitive Computing capabilities provides a powerful means to aggregate and analyze data about individual and organizational behaviors, preferences, relationships, plus spatial and temporal linkages between individuals and groups.

Cambridge Intelligence are graph visualization experts. For more than a decade, we've helped hundreds of organizations to visualize, explore and understand their complex connected data. Our developer toolkits make it quick and easy to build powerful, interactive graph and timeline visualization components. You can roll them seamlessly into your existing applications and workflows, and have them ready to deploy to anyone, anywhere in the world.
KeyLines isour JavaScript graph visualization SDK. It gives you the flexibility you need to add visual graph components to applications built on any stack.
ReGraph is our React graph visualization SDK. It offers an intuitive data-driven API that's designed specifically for React developers.
KronoGraph is our unique visual timeline analysis SDK for interactive and scalable timelines of densely connected event data. Visit us at Data Day Texas to learn more and get started with a free trial.
Dremio is the easy and open data lakehouse platform, providing an intuitive UI that enables data teams to get started with analytics in minutes, as well as the flexibility to use Dremio's lightning-fast SQL query service and any other data processing engine. Dremio increases agility with a revolutionary data-as-code approach that adopts Git concepts to enable data experimentation, version control, and governance. In addition, Dremio breaks down data silos by simplifying ingestion into the lakehouse, and enabling queries directly on databases and data warehouses. All of this is available through a fully managed service that not only eliminates the need to maintain infrastructure and software, but also automatically optimizes the data in the lakehouse to maximize performance for every workload.

Elastic is a search company. As the creators of the Elastic Stack (Elasticsearch, Kibana, Beats, and Logstash), Elastic builds self-managed and SaaS offerings that make data usable in real time and at scale for search, logging, security, and analytics use cases. Thousands of organizations worldwide, including Cisco, eBay, Goldman Sachs, Microsoft, The Mayo Clinic, NASA, The New York Times, Wikipedia, and Verizon, use Elastic to power mission-critical systems. Founded in 2012, Elastic is a distributed company with Elasticians working in countries around the world. Learn more at elastic.co.

Instaclustr helps organizations deliver applications at scale through its managed platform for open source technologies such as Apache Cassandra®, Apache Kafka®, Apache Spark™, Redis™, OpenSearch®, PostgreSQL®, and Cadence®. We combine a complete data infrastructure environment with hands-on technology expertise to ensure ongoing performance and optimization. By removing the infrastructure complexity, we enable companies to focus internal development and operational resources on building cutting edge customer-facing applications at a lower cost.

Katana Graph helps today's forward-looking, data-driven organizations turn boundless data into a competitive advantage. Our flagship technology is an AI-powered graph intelligence platform that uses an unparalleled combination of novel graph algorithms, graph neural network architecture and the latest advances in hardware acceleration to power faster, more accurate insights at unmatched scale and performance. From comprehensive fraud detection in real time and 360-degree views of the customer to maximizing R&D time and cost efficiencies, Katana Graph empowers our customers to perform and perfect business-critical tasks that help set them apart from the competition. We're changing the face of data-driven industries like financial services, health & life sciences, and security, and are always looking ahead to new challenges.

Kineviz was founded in 2015 as a community, built on a foundation of technology and creativity. We are a team of scientists, computer engineers and artists working to connect humans with data and provide the visualization of complex data to gain insights for better outcomes. Our GraphXR platform is a fluid yet powerful visualization and analytics tool. It enables data modeling, exploration, analysis, and the visualization of high dimensional and connected data, as well as powering custom applications requiring a graph data model. GraphXR is especially valuable for visualizing data from multiple sources and in a variety of formats, and supports a broad and steadily expanding range of databases, file types, and APIs, GraphXR has been successfully deployed in a variety of industries - from large-scale enterprises to SMBs - including banking & financial, healthcare & life sciences, public safety, high-tech, and more. Visit us at kineviz.com.

Founded in 2004, the Semantic Web Company is the vendor of the PoolParty Semantic Suite. As a leading provider of graph-based metadata, search and analysis solutions, Semantic Web Company supports its customers in the development and implementation of enterprise knowledge graphs, in the extraction of useful knowledge from large data sets, and in the integration and linking of structured and unstructured data. The technology company also helps organizations to develop strategies that support the efficient introduction and implementation of innovative graph technologies. Semantic Web Company is headquartered in Austria, with a branch in the UK, US and Germany. To learn more, visit https://semantic-web.com/ and https://www.poolparty.biz/ or follow them on LinkedIn and Twitter.

Redpanda is the streaming data platform for developers. API-compatible with Apache Kafka, Redpanda introduces a breakthrough architecture and disruptive capabilities that make it an easy, fast, scalable, and cost-effective engine of record for both real-time and historical enterprise data. Innovators like Lacework, Jump Trading, Vodafone, Moody's, Hotels Network and Alpaca rely on Redpanda to process hundreds of terabytes of data a day. To learn more, visit redpanda.com

Starburst is the analytics engine for all your data. We provide the fastest, most efficient analytics engine for your data warehouse, data lake, or data mesh. We unlock the value of distributed data by making it fast and easy to access, no matter where it lives. Starburst queries data across any database, making it instantly actionable for data-driven organizations. With Starburst, teams can lower the total cost of their infrastructure and analytics investments, prevent vendor lock-in, and use the existing tools that work for their business. Trusted by companies like Comcast, FINRA, and Condé Nast, Starburst helps companies make better decisions faster on all data.

Tom Sawyer Software is the leading provider of software and services that enable organizations to build scalable and dynamic graph and data visualization and analysis applications. Customers such as AIRBUS, Cisco Systems, Equifax, IBM, JPL, Lockheed Martin, NASA, Siemens, and Toyota use our software to automatically discover and graph hidden patterns and complex relationships. We serve clients with needs in geospatial intelligence, link analysis, network topology, maps, architectures and models. We also federate data from large, diverse sources such as Neo4j, Oracle, and others. Visit our booth to see live demonstrations or http://www.tomsawyer.com/solutions/graphical

The future belongs to the fast, and Vertica delivers the fastest, most scalable advanced analytics platform, forever independent from underlying infrastructure. Vertica's SQL Data Warehouse is trusted by the world's leading data-driven companies, including Bank of America, Cerner, Etsy, Intuit, Uber and more to deliver speed, scale and reliability on mission-critical analytics. Vertica combines the power of a high-performance, massively parallel processing SQL query engine with advanced analytics and machine learning so you can unlock the true potential of your data with no limits and no compromises.

Yugabyte is the company behind YugabyteDB, the open-source distributed SQL database for scalable, cloud native applications. YugabyteDB eliminates legacy database tradeoffs by combining the best of SQL—consistency, familiar interfaces and security—with the best of NoSQL—resilience, horizontal scalability and geo-distribution—into a single logical database built for transactional applications. YugabyteDB enables developers and IT teams to focus on innovation instead of complex data infrastructure management, leading to accelerated productivity, reduced costs and lower risks. Fortune 500 companies like Kroger, Wells Fargo, and GM adopted YugabyteDB to modernize their data layer, eliminate legacy solutions, and enable an always-on business free from cloud lock-in. For more information, visit Yugabyte.com or follow us at @yugabyte.
Partnership opportunities at Data Day Texas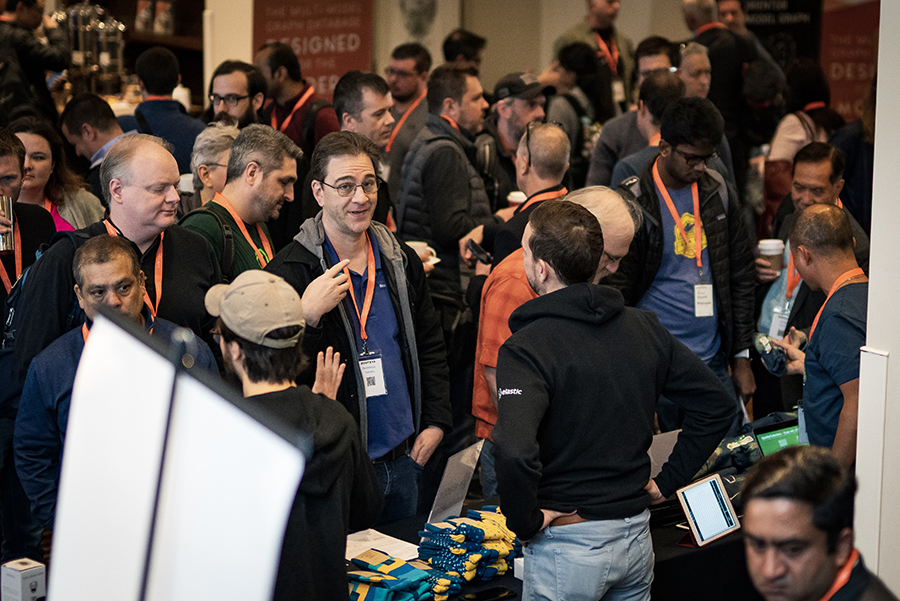 A slack channel at a virtual conference is not the same as having hundreds of people pass by your booth. Data Day Texas sponsorships normally sell out three months in advance, and the best slots are taken well before that. For partnership details, send a note to partners@globaldatageeks.org.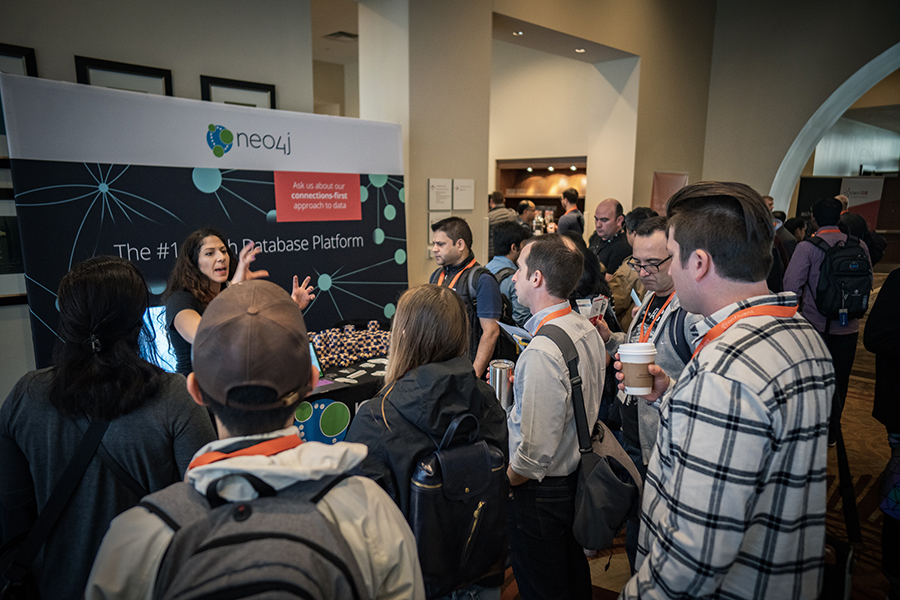 Karin Wolek summons the magic at the Neo4j exhibit. With attendees and speakers coming from around the world, Graph Day at Data Day Texas is the best place to engage teams looking to explore and implement graph technology. For sponsorship details and a prospectus, send a note to: partners@globaldatageeks.org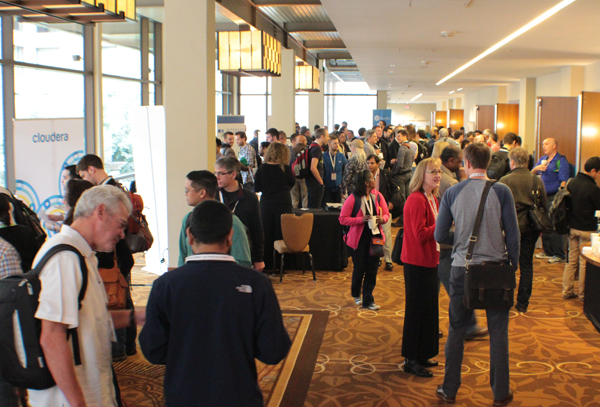 Gold and platinum exhibit spaces are available outside the main ballroom. These go fast. For sponsorship details and a prospectus, send a message to: partners@globaldatageeks.org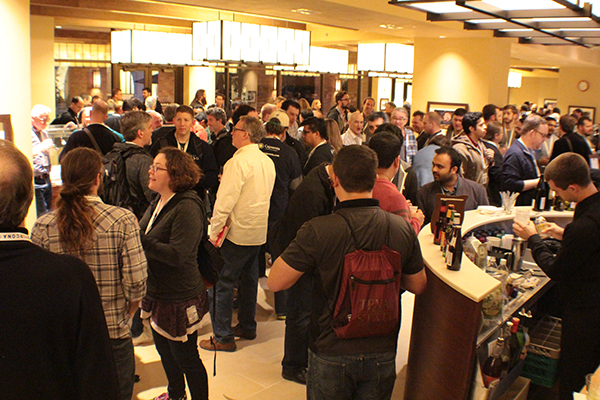 Data Day Texas always ends with a post-conference happy hour.. It's a great place to follow up with new friends and continue hallway conversations. For sponsorship details and a prospectus, send a message to: partners@globaldatageeks.org